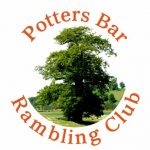 We are a friendly, active club with a regular programme of walks which take place every Wednesday and alternate Sundays* throughout the year, come rain or shine. There are also various social activities during the year, which usually include at least one walking holiday. Please click on the links below, or use the menu bar above, to navigate the site.
The current programme walks, which are usually 5 to 10 miles, are either circular or figure of eight and are held within about a twenty mile radius of Potters Bar in South Hertfordshire. All walks start at 10.30 unless otherwise stated. Our aim is to have enjoyable walks through pleasant countryside. The walks are typically of Leisurely to Moderate grade; since most are in open countryside, and include walking on unsurfaced footpaths, suitable clothing and footwear should be worn. We are always keen to get new members and if you would like to try us out you are welcome to come on three walks before deciding whether to join the club; membership is only £10 this year  though. For further information, please contact the Membership Secretary (Jean Nield; tel. 01727 824009) or Rambles Secretary (Valerie Peake; tel.07792980194); alternatively you can contact the club by email using the above link. Members are also encouraged to become walk leaders, as and when they are happy to do so.
*On the alternate Sundays when walks are not held by the club, local walks are held by the Potters Bar Society aimed at familiarising people with the local countryside. Details of these can be found by clicking on the link on the right under Related Groups.